The Ultimate Twitter for Business Guide
So you're ready to take a tweet of fate and start using Twitter for business?!
We know it can be daunting jumping into the wonderful world of Twitter for business for the first time, but fear not, we'll make sure you are fully versed on everything you need to know about this multi-purpose platform. 
The first thing you need to get your head around is that Twitter is a messaging service that was originally developed to mirror the length of a text message which was 160 characters at the time. When Twitter first launched you were able to send up to 140 characters in a Tweet, with Twitter reserving the remaining 20 for your username. Today you can send up to 280 characters in a Tweet.

The best way to think of Twitter is as a never-ending party. It may seem very noisy when you first join the soirée, that is until you find a conversation you are interested in listening to or joining in with. Once that conversation comes to an end, you can move along to the next one.
This is exactly what Twitter is like, people constantly chatting, sharing ideas and opinions, swapping tips, posting interesting content and links and making new connections. You find someone you like and then you follow them. If people are interested in you, your business or the content you are sharing, they will follow you.
Build connections and listen
With every new connection there is the potential to develop a deeper relationship, whether that's over email, on the phone or face-to-face meetings – they could even become customers.
Another great thing about Twitter for business is that it encourages you to listen. Listen to what that trends are in your industry, listen to expert tips, listen to what your peers are doing and, probably most importantly, listen to feedback from your customers and followers. Tuning in to what they are saying will allow you to quickly cater to their needs. 
Sounds busy, doesn't it? Don't worry once you get into the swing of things it will all become much clearer. Even if you spend just 15 minutes a day on Twitter you will start to see the benefits. Remember to stay focused on the people you want to know more about, people who will enhance your network and the people you are hoping to connect with in the future. These are the people whose tweets and content you should seek out. 
Ready? It's time to get the party started!
[divider height="30″ style="default" line="default" themecolor="1″]
How to… set up your Twitter profile
Twitter Username
Get yourself off to a flying start by making sure you chose the right username, or handle as it's known in the Twitterverse, for your account. And by the right name, we mean something simple, that is easily identifiable as your business. When you are starting up a Twitter for business account try to keep the username similar to your user name on other platforms.
Keep in mind that your handle is what the public will see, so ideally you want it to be your company name, like @feedalpha or, if your exact name is not available, a very straightforward shortened version like @tsnetwork.ie. You should also try and keep it to 10 – 15 characters so that your followers can give you mention without using up too much of the 280 allowance.

Remember one of the main aims of  Twitter for businesses is to acquire engaged followers who will be interested in sharing and clicking on your content and, if they aren't already, could potentially become customers.
Twitter Bio
Start by thinking about keywords that describe your business. Then think about how you would explain your business to a complete stranger in a couple of seconds.

Now, in 160 characters write down the most important things you thought of.

Bingo, you've got your bio!

Don't be afraid to inject a little bit of personality that reflects the kind of product or service your offer… and an emoji or two!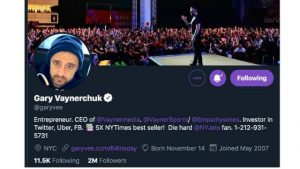 Profile Image
Warning! Do not neglect this step!
 Twitter users tend to ignore, or don't trust accounts that don't have profile pictures.

Your logo is the perfect profile picture, as your customers will be familiar with the image and associate it with your business. 
Individuals should go for a close-up headshot, ideally a professional shot or, at the very least, not cut out from your latest holiday snaps. Make sure you are the only person in the picture. 
Say Hello
Ok, so you may not have any followers yet, but now is a good time to send your first tweet. Why? Well, when people come to visit your profile they will instantly be able to see that you are a real person or business, and not a spam account. 
With only 280 characters to play with, you won't be able to post anything too profound, so short and sweet is definitely the best policy here. (and really the only option!)
Find Followers
Who you choose to follow will shape the type of content you are exposed to and the quality of relationships you will be able to establish on Twitter. If this is your business account, set some criteria for the accounts you will follow – here are some good questions to ask yourself:
What experience do they have?

What is their industry knowledge like?

What kind of content do they share?

What can I learn from them?

What am I trying to achieve by using Twitter?
 A good place to start is with professionals in your industry, other local businesses in your area, colleagues, a business that you are inspired by, current and potential customers and of course your biggest supporters – your friends and family.

It's also a good idea to follow similar businesses to your own. Take a look at how they built their following. Don't copy them, but keep them in mind when working on your strategy. 
And keep an eye on the 'Who to Follow' section for recommendations of other accounts that fit your interests. 
Spread the Word
Now it's time to let your network know that you are on Twitter. Send an email to your list of contacts and include your handle. Make sure you add a follow-me button to your email signature and your website.
Make Twitter Lists
Twitter has a nifty little feature that allows you to keep track of the people you follow by organising them into specific groups based on similar interests. While creating lists won't be on the top of your to-do list initially, it is worth familiarising yourself with how to use them early on. That way you will have your contacts organised from the beginning, rather than having to spend time trying to sort through them when you are under pressure.
Read our blog on Twitter lists here!
How to… create Twitter Lists 
Step 1: Log on to your Twitter profile and click Lists in the column on the left-hand-side on desktop or by clicking on your profile picture while on your newsfeed on mobile.

Step 2: Click 'Create a List'
Step 3: Enter a name and description for your list. You can then set your list to private if you don't want anyone else to be able to access it. This is a good idea if you are grouping all your clients or contacts together.

Step 4: Add Twitter users to your list by entering their handle or full name. If you are unsure of their Twitter name, you can also search to find the correct account.
Step 5: Once you have your lists set up, just repeat step 1 to find them. Click on a specific list and you will then only see tweets from the people you've put on that list.
[divider height="30″ style="default" line="default" themecolor="1″]
How to… use Twitter Search to your best advantage
Did you know that over 500 million tweets are sent every day? That's a whole load of content to wade through to find what's relevant to you. Thankfully, Twitter has made it pretty easy to navigate all this information and find what's interesting to you with Twitter Search. 
Here are some tips on how to use Search smartly:

 Twitter moves at a very fast pace, so more often than not, users won't take the time to look for you handle every time they are talking about your business. This is especially true when someone is looking for a recommendation or voicing a complaint.


It's worth searching your name or your business name regularly to keep up with what people are saying about you. You can then respond or offer advice or tips – they'll be pretty impressed!

Stay in touch with what is happening in your local community by searching your local hashtag. This is a fantastic resource and will help you keep on top of everything that is happening close to you. From business updates to charity events, it's really important you know what is happening in the community, and that you can engage and participate in relevant events.


 Similar to lists, Saved Searches allow you to organise your content based on topics, rather than on users. Simply search for a topic that is of interest to you or relevant to what your company does and then save it to refer back to in the future. This also means you will have instant access to the most up-to-date conversations that are already taking place.

 Are you a super savvy marketer, but your time management isn't so hot? Or maybe you want to run better events or get better at introducing yourself to potential clients. Whatever skills you want to improve Twitter search can expose you to a whole host of valuable resources that can put you on the path to achieving your goal. 

It's also really important that you make it easy for people to find you through search. Try and include relevant keywords in your bio. You can find popular and trending keywords by checking out Google Planner (

https://ads.google.com/home/tools/keyword-planner/

) or Google Trends (

https://trends.google.com/trends/?geo=US

)
Using #hashtags effectively on Twitter
The hashtag symbol, #, is used before a keyword or phrase in a Tweet so that they can be found easily in a Twitter search. Think of it as a handy way of pulling together various social media posts that are related to the same topic. If you click on the #word or #phrase in any message Twitter will curate and display a feed of Tweets that include the same hashtag.
Using hashtags at the start, middle or end of your Tweet, allows you to add context to your post and to show that you want to be part of a wider conversation. 
Hashtags are a great way of bringing people who are discussing the same topic together. They are also a superb way of connecting people at events. They are a leap pad into conversations and they can boost the visibility and reach of your content or promotion.
Despite what you may have seen on some posts, it is important that you don't go overboard with hashtags. Too many hashtags can look desperate and spammy. In fact, research has shown that engagement drops when there are more than 2 hashtags used.
Short, easy to spell and easy to remember are the three things you need to keep in mind when creating a hashtag. This can be difficult when you need a hashtag for an event with a long title – using a recognisable abbreviation or acronym will solve this problem for you.

Top Tip: Make sure you do a search for the hashtag you intend to you use before you press the Tweet button. You never know what hashtags people are using and in what context. The last thing you want is to accidentally tie your business into controversial, embarrassing or negative conversations. 
How to… enhance your Tweets

Images
The simplest way to jazz up your tweet is to add an image. All you need to do is click on the little camera icon below the Twitter update box. You will then be able to upload an image directly to your tweet. Tweets that include images tend to get double the amount of interaction than a standard tweet.
Text Overlay
Make your image work even harder for you by overlaying it with text. The headline of an article, an inspirational quote or stats and facts are a great way to encourage engagement.

Video
Any chance you get to share a video, do it. It is one of the most effective ways to reach your audience on Twitter. Tweets with video tend to garner 60% more retweets than those with photos and 30% more than tweets with GIFs.
Bright is beautiful
Users tend to have a higher engagement rate to images that are bright, bold and beautiful. So instead of just sharing a link to an article, consider sharing a striking image that represents the content.
Tagging on Twitter
Share the love on your posts by tagging people and businesses in your images and mentioning them in posts. This way you will get their attention and hopefully, they will engage with or retweet your update.
How to… deal with negative feedback
If you are using Twitter for business purposes receiving negative feedback on a public platform can make your stomach flip – especially when it happens for the first time. 
In this digital age, it is very easy for people to send a quick tweet of complaint about your business when things go wrong and unfortunately, a negative tweet is twice as likely to be shared than a positive one.
But please don't worry, a negative tweet doesn't have to be a disaster, in fact, we are going to show you how you can turn it into a positive experience for your customers and followers.

Step 1. Take a Step Back
When you see a negative tweet, especially one you think is unwarranted, it can be upsetting, frustrating and extremely annoying. But you must not take it personally as this will have a detrimental effect on how you respond. Instead, take a step back, breath and take a few minutes if you need to before you compose your response. The last thing you want to do is fire back with an angry tweet, this will only exacerbate the issue.
When you have calmed down, it's time to take a look at exactly what the tweet is saying and try to figure out what it is that has upset them. 
As 280 characters is not a lot to work with, it may not be obvious what the issue is, so check if they have sent any additional tweets. It's also worth checking out their profile to see if it offers any further insights.

Step 2. Respond  
It's time to put yourself in the tweeter shoes – even if you think their post was unfair or incorrect. They are obviously feeling aggrieved about something as they have taken the time out of their day to tweet a complaint. It's never ok for a customer to feel this way, so you need to look and see if any improvements can be made.

If you are unsure what their issue is, then tweet them an apology and ask them to direct message you more details so that you can work towards a solution. 
However, if you feel you have a handle on the situation and know exactly what the problem is, you should really try and keep your interaction in the public domain. (Never ask them to send you their contact details in public though, they should always be sent in a DM)

Whichever way you choose to respond initially, the complainant usually tends to calm down once they are assured you are looking into the problem.

Top Tip: If there is no solution to their problem please keep in mind that just sending an apology is often not enough. And definitely, don't use phrases like "this is our policy" or 'our procedure is to…' as it will most likely upset them even further. Instead, explain why; "We understand why this might be annoying, but please be assured it is to protect the privacy of our customers." More often than not, when they understand the reason behind the issue they will be more forgiving.

Step 3: Resolve and Remember
Make sure you actually follow through on what you have told the customer you will do. Even if you can't rectify the situation right away, give them an update when you can.

If their experience was particularly negative, it is worth considering offering them a gesture of goodwill to show them that you take customer satisfaction seriously. A discount or a free service or product usually goes down pretty well.
Remember, customers are always looking for a first-class experience with businesses, so try and use a negative tweet as a way of showing-off your exemplary customer service skills. Be responsive and authentic – don't just rhyme-off the same response to every person. Not only will you be making a good impression on the affected customer, but your stellar service will also be visible to every person who visits your profile and sees the interaction.
How to… join a Twitter Chat
Once you are up to speed on how to use Twitter for business, it's time to have a little fun, all while building business relationships and contacts of course!

A Twitter chat is a live discussion that takes place on Twitter with a predetermined theme. Tweeters involved in the discussion use a specific hashtag so that they can be easily identified.
Joining a Twitter chat is a fantastic way for small businesses to interact with new people, learn from people in the industry, collaborate with peers, contribute to a conversation and offer expertise.

Before you jump in, here are a couple of things to keep in mind.

Be prepared
A Twitter Chat usually takes place on a designated date and time, so this gives you time to gather your thoughts. Write down any insights you want to share. Check out any questions or information provided by the host. It's also a good idea to have some tweets ready to go so that all you have to do is cut and paste during the chat. Don't forget to use the chat hashtag!

Let your followers know
It is good practice to let your followers know that you are going to be participating in a Twitter chat before it kicks-off. This is so that they won't be confused when they see a tonne of tweets from you in their stream. If you think it is a topic they will be interested in, encourage them to join the chat as well.
Questions
Keep an eye on how the host manages the chat. If the number the questions, make sure you clearly label your response with the corresponding number.

Share content
If you have recently posted a blog, or have an event coming up that is relevant to the chat, give it a mention in a tweet. The same goes for any products or services. But be mindful not to use the chat as a sales opportunity. Share your knowledge but don't be pushy about your business.

Follow-up
The great thing about a Twitter chat is that usually, the people who participate are very supportive of each other. Don't be surprised if they follow, retweet, compliment and like your tweets. If they ask any follow-up questions make sure you get back to them. And don't forget to share the love!

Make new connections
Take a look at the profiles of the other chat participants, you never know what new connection you will find. Follow those you find interesting or relevant. Continue to interact after the chat and before you know it you will have a new business contact.
How to… crunch your Twitter for business numbers
Keeping an eye on how your tweets are being received will allow you to make smart decisions and tweak your content to ensure that it is garnering the most engagement. To start tracking your tweets go to analytics.twitter.com and log in using your regular Twitter credentials.
When you first log on you will see your account home. Here you can see a 28-day summary of your total number of tweets, the impression those tweets received, how many people visited your profile, the number of mentions you received, how many followers you have and how many tweets have been sent with a link to your profile.

Underneath this section, you can find your highlights for each month including what your top tweet was.
To delve deeper, click on Tweets in the analytics menu, and then click on Last 28 Days in the top right and you will now be able to select different time periods.

Once you enter your dates a graph will pop up with the number of impressions and tweets by day. Below the graph, there are a number of other options for you to choose: Tweets, Top Tweets, Tweets and Replies and Promoted Tweets.

Twitter also offers the metrics for each tweet:
Impressions – the number of times users saw a tweet on Twitter.

Engagements – the total number of time users have interacted with a tweet. This includes all clicks anywhere on the tweet, retweets, replies, follows and likes. 

Engagement rate – the total number of engagements divided by the total number of likes 
There is also a column on the right-hand side for the selected time period which highlights engagement rate, number of link clicks, number of retweets, number of likes, and number of replies each day over the given time period.
Now it's time to put these metrics to work. Take a look at the content or posts that causes a spike in impressions. Check when you posted these tweets and your engagement with other tweeters at the time.
Consider posting similar content again and see if it gets the same reaction if it does you know you have hit on a winning formula for some of your tweets.
Top Tip: You can also export your metrics by clicking on the Export Data button in the top right-hand corner of the Tweet Activity page. You will receive a spreadsheet with the total number of Twitter users that clicked on links, retweeted, liked, and replied to each tweet.

Another important part of Twitter Analytics is the Audience tab. In this section, you will find a wealth of information about your followers. When you first click on the Audience tab you will see an overall view of your follower growth for the last 90 days.
For a more comprehensive look at who is following your profile click through the different sections at the top of the page. There is a lot of information available to you including demographics, lifestyle, consumer behaviour, and the mobile footprint of your followers. This knowledge can be really useful and help you create and share relevant content.
How to… not do Twitter!
We all make mistakes, but when you are putting them up on the social platform for all to see, some are better off avoided. Save your blushes with our list of Twitter no-nos.
Shorter is better
This is one of the most common mistakes, but it has an easy fix. Simply use a tool like bit.ly or ow.ly where you can create a shorter link that is much more pleasing to the eye and takes up fewer characters. 
Me, me ME!
Ok, so a little self-promotion is good for business, but don't litter your timeline with posts filled with "I" or "We" as it can be very off-putting. And don't constantly retweet your own tweets. Stick to the 80/20 rule. 80% helpful, insightful or fun content and 20% promotional content.
Knock-knock, who's there? No one.
Social media is all about being social, so make sure you respond to people where possible. Do your absolute best to answer any questions and always address complaints and negative feedback.
Hi, I'm a robot.
If someone takes the time to send you a direct message, do not respond with an automatic message. You don't want your first impression to make you look like a robot. If you can't get back to them right away, send them a message when you can, they will appreciate this more than something automated and generic. 
Abbreviate but don't abandon
With a limited number of characters available, there will be times when you will have to abbreviate, but please don't abandon grammar completely, you still want your post to be legible. 
Tweeting 9-to-5
Nobody expects you to be on Twitter all day, every day, but it is worth keeping in mind that your followers don't log off when you do. Check out tools like FeedAlpha where you can set up and schedule tweets.
YOU'RE TALKING TO LOUD!!!! 
Did you know that using caps on social media is the equivalent of shouting at someone? Certainly not something you should be doing to your customers online or in real-life. And, as a general rule, only use exclamation marks when absolutely necessary.

Badmouth your competition
If you have only bad things to say, then don't say anything at all. Talking badly about a business or someone will most likely backfire and you will be the one that looks untrustworthy and disloyal.
So there you have it the ultimate guide to Twitter for business, the beginner's version. Keep an eye out for our Twitter Advertising blog.